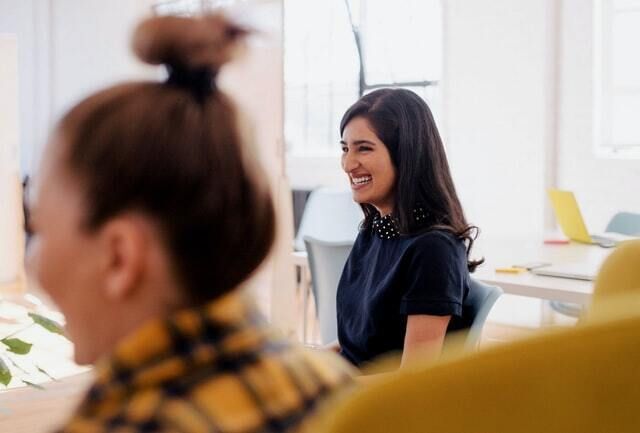 In today's world of online job searching and recruiting, it's easy for employment seekers to narrow down companies they're interested in. Websites like Glassdoor and Indeed make it easy for them by allowing past and current employees to leave company reviews. Studies have found people trust online reviews nearly as much as they would a recommendation from a friend. 
That's why it's crucial for companies today to create an environment their employees enjoy. Positive reviews will encourage more candidates to apply, giving companies a larger pool to choose from. There are many ways companies can cultivate a positive work culture to keep their employees happy and motivated to leave positive reviews. Here are just a few ideas to get you started.
Let your employees know you trust them.
No employee enjoys being hovered over by their managers. You may be thinking you're just keeping them on track, but loosening the reins a bit might actually increase their productivity. Most employees consider autonomy to be an important aspect of their jobs, so your letting go will not only make them more at ease, but it will also lead to a more relaxed work environment.
Encourage clear communication.
Great communication occurs when both employers and employees know what is expected of them. An open-door policy establishes trust as well as creates a loop of information and feedback throughout the company. Constant feedback causes teams to always be improving, contributing to the overall success of the organization.
Make sure to get to know your employees, as well. When they see you care about their goals and interests, they will be more likely to communicate more clearly with you. 
Have a positive attitude around the office.
A quick "Hi" or "Good morning" to people goes further than you may think. People will appreciate you noticing them, even if it's just with a simple smile with eye contact. It makes you seem approachable, especially if you're in a managerial or leadership position. Your good attitude will hopefully rub off on others and cause them to spread the cheer.
Show your appreciation.
In order to enjoy their jobs, most people need a clear correlation between hard work and reward. People want to feel appreciated. Saying "Thank you" or "Good job" shows that you're paying attention to the effort employees put into their jobs. Make sure to explain your appreciation so employees can know what they did well and keep doing it.
Hold critiques in a private space.
No one wants to be criticized in front of their peers. It's embarrassing, and it could cause you to lose your employees' respect. If you need to evaluate someone's behavior or work, do it in an area where only those involved are present. This will ensure privacy and show you're not trying to publicly humiliate your employee. 
Listen to others.
Everyone likes to feel heard. Listen to your employees when they come to you with ideas, and be open to them. By letting your employees know their opinions matter, you are fostering a safe space where everyone's perspectives are taken into account.
Celebrate wins and milestones.
Did your employee write the winning pitch? Has someone been with your organization for 10 years? Congratulate them, and tell others about their successes. Finding a reason to celebrate your employees shows you care about them and their contributions to the company. They will feel energized to keep working hard and making their employer proud.
Positive work environments cultivate happy employees, who then write raving company reviews. These reviews help create good buzz for the company. They also attract top-tier job candidates who can continue to make your organization great. Following these tips can help ensure your workplace is somewhere people are proud to talk about even after they leave.